Cover letter yang benar pasti banyak dicari orang yang sedang ingin mendaftar magang atau melamar pekerjaan. Keduanya sama-sama penting untuk meningkatkan kemampuan kita sebagai lulusan universitas yang profesional. Belum lagi, kita pasti harus bekerja setelah lulus dari universitas, jadi kita perlu tahu cara mendaftar pekerjaan dengan benar.
Pada dasarnya, cover letter adalah surat lamaran kerja. Fungsi surat lamaran ini adalah untuk menarik perekrut magang atau kerja supaya mau menerima seorang pendaftar. Oleh sebab itu, mempunyai cover letter yang bagus sama pentingnya dengan membuat CV (curriculum vitae) yang bagus saat mendaftar kerja.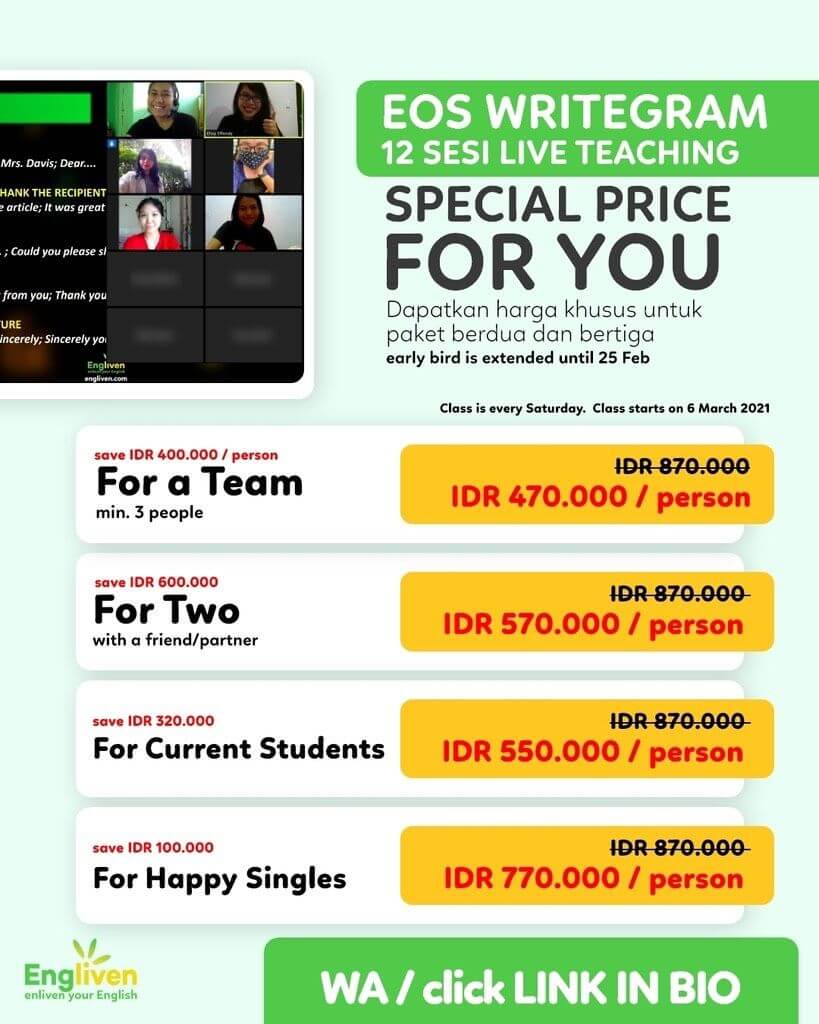 Mampu menulis dalam bahasa Inggris juga diperlukan untuk membuat cover letter yang benar. Untuk itu, Engliven menyediakan kursus EOS WriteGram yang bisa kamu ikuti untuk meningkatkan kemampuan menulis bahasa Inggris kamu. Dengan berbagai paket belajar, kamu bisa memilih sendiri mana paket yang paling cocok buat kebutuhan kamu!
How to Write a Proper Cover Letter
Now that we have understood the definition of a cover letter, what can we do to write it? In this article, we will explain the ways to write an application letter. Afterward, we will show an example of the letter so that you can understand how it looks. As a result, we hope that you can make a good cover letter for yourself when you are considering applying for a job.
Pick the Correct Template for the Cover Letter
Making the first impression is very important. Because of that, you need to choose the correct template for your cover letter. Although you may have an impressive work record, it doesn't mean anything if you can't show it properly. Luckily, the internet provides a lot of websites that provide cover letter templates that you can use. As a result, recruiters can be immediately interested in your letter because you have used the correct template!
Make a Good Header
A letter header provides quick information about yourself. By having a good header, recruiters can have a first look at your identity. Some things that you must put in the header consist of:
Name
Phone number
E-mail address
Date
Name of the hiring manager
Name of the company you're applying to
You need to remember that you should only use a formal e-mail address. The reason is that if you use an unprofessional e-mail, recruiters will not take you seriously. As a result, your application can be rejected right away just because you don't use the correct e-mail address!
Write an Attention-Grabbing Introduction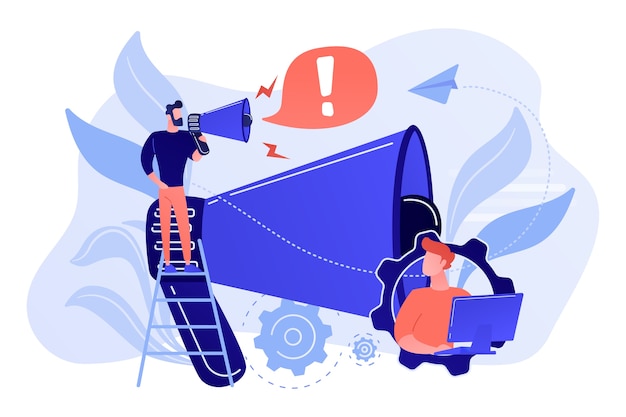 The first impression also matters in this part. Recruiters can receive thousands of cover letters every day, so they don't have time to check all of them. As a result, you should use an attention-grabbing introduction in your letter to gain their interest.
Here is an example of an eye-catching introduction:
Dear Thomas Raleigh,
My name is Malcolm and I'd like to help Robotica Inc. hit and exceed its sales goals as a Sales Manager. I have worked with Company A, a technology company, for 5+ years. As a Sales Representative, I generated an average of $50,000+ in sales per month (beating the KPIs by around 45%). I believe that my previous industry experience, as well as excellence in sales, makes me the right candidate for the job.
From this example, recruiters can immediately recognize Malcolm's previous achievements. They can see how Malcolm managed to achieve great results in his previous company. As a result, the recruiters can choose Malcolm from this introduction because he made a good introduction in his letter.
Explain Why You're the Perfect Choice for the Job
Relating to the previous part, Malcolm has explained his previous achievements. However, this alone is not enough. Both Malcolm and you still have to explain why you or he is the right choice for the company. To do that, you need to understand first the requirements of the company.
For example, BC Company opens the job position of a copywriter. The position requires the applicants to be experienced in some things, such as:
Prior experience as a copywriter
Excellent writing, editing, and proofreading skills
Experience and knowledge about SEO
Experience of professional content writing
In order to be accepted, you need to explain your previous experience as a copywriter. By properly elaborating your experience, recruiters can be convinced that you're the first choice for their job position. As a result, your chance to be accepted in the job can be increased.
Use a Proper Finishing Section
Be sure to finish the letter properly! In the finishing remarks, you can write the conclusion of your letter and add additional information. The additional information can consist of things that can help recruiters to make their decision. Moreover, you should thank the recruiter as well as a sign of courtesy.
Here is an example of a proper finishing remark:
So to finish this letter, thank you for looking into my application. I hope I can help Robotica Inc. make the most out of its Instagram marketing initiatives. I'd love to further discuss how my previous success at Company A. can help you achieve your Instagram marketing goals.
Best Regards,
Malcolm
With this example of a finishing remark, we can see how Malcolm is willing to give some more explanation about his past experience. Since the cover letter cannot contain all of the information, he'd like to explain it personally. Because of this, Malcolm is going to give free time to the recruiters to explain more about his work experience.
Example of a Cover Letter
The image above illustrates an example of a proper cover letter. As a university graduate, George Sunderland expects to fill a job vacancy as a Marketing Manager in Raytheon. Because of that, George makes a cover letter to Raytheon to express his interest in working with Raytheon as a Marketing Manager.
To explain his strengths, George emphasizes several important things. These things consist of his language, communication, and marketing skills. These skills are very important because the job vacancy demands a Marketing Manager to be skilled at those skills. Feeling that he is the perfect candidate for the job vacancy, George writes this letter to Raytheon and expects to explain his skills and abilities to the recruiter.
Vocabulary Corner
From the explanation above, we can see ways to make a proper cover letter. By knowing the right ways, we hope that you know what to do when you are considering applying for a job. When you read the explanation, did you find any difficult words? If so, we have a table that contains certain words and their definitions in Indonesian.
| | |
| --- | --- |
| English Words | Arti dalam Bahasa Indonesia |
| First impression | Kesan pertama |
| Header | Bagian atas suatu surat |
| Recruiter | Perekrut |
| Attention-grabbing | Menangkap perhatian |
| Exceed | Melampaui |
| KPI (Key Performance Indicator) | Indikator kinerja utama |
| Excellence | Keunggulan |
| Elaborating | Menjelaskan |
| Finishing remark | Komentar akhir |
| Application | Lamaran kerja |
By knowing the right ways to make a good cover letter, you'll have a greater possibility to be accepted into a job. If you are still curious about articles that can train your English abilities, Engliven has a blog for your reading materials. Happy reading and enjoy your day!