Films, videos on YouTube, and TV series are some alternatives for you to learn English. Usually after watching videos and films, the audience will imitate how the characters' speech and expressions. Then, the audience will indirectly use English steadily in everyday life. This is because the films, TV series, and YouTube videos use the depiction of real situations.
Let's Learn English and Watch Series!
Watching English series and TV shows have a considerable impact on your English skills. One of the reasons is that watching them makes it easier for you to learn English and absorb new vocabulary. Moreover, the visuals of these shows give context and represent the language it is spoken.
According to the British Council blog, visuality is a tool that enables learners to understand by interpreting the language that the visuality gives. The visuality assists learners to learn English by depicting the facial expression and gestures that provide the learners with an exchange of that language.
Series & TV Shows to Learn English
The Queen's Gambit
The Queen's Gambit is a sport-themed short-series adapted from The Queen's Gambit novel by Walter Tevis. It is about Beth Harmon (Anya Taylor-Joy), the main character, who is obsessed with chess game when she lived in an orphanage. She finds the game as a part of her life and become her journey to multiple championships. However, the series also presents how an athlete struggles to maintain the winning rate and battle against drug addiction.
The Queen's Gambit is a light series to watch that can enrich your vocabulary especially chess-related terms and the strategy to play it. However, it is also motivational that tells the ups and downs of mastering a game. For that reason, the series can tell you a lot as to how to learn a new language that we want to be an expert in.
Brooklyn Nine-Nine
Brooklyn Nine-Nine is a sitcom series about American cops who works at the 99th Precinct in Brooklyn. The series shows Jack Peralta (Andy Samberg), an immature yet talented detective with the 99th Precinct's detective gang who tackle crime in New York City. Each of the main characters possesses a peculiar quirk when it comes to settling a crime case. Moreover, when Jack Peralta comes up with a crazy idea such as Halloween Heist, you can expect how strange the idea sounds.
Anyway, watching American sitcoms such as Brooklyn Nine-Nine can significantly improve your daily conversation skills in English. Situational comedy refers to realness and relatability of our daily lives. Moreover, not only will your daily conversation skill improves, but also certain kinds of humor that probably will stick on your head as you get into the show. The reason is that the use of repetition on words and phrases makes us understand the following line in the story.
Young Sheldon
If you're familiar with The Big Bang Theory, Young Sheldon is the spin-off prequel of the show. The story revolves around Sheldon Cooper's early life. The young Sheldon is a genius and matures faster that is unusual among kids at their young age. He goes to high school at the age of nine in East Texas. Moreover, young Sheldon is obsessed with science that always makes him answer everything based on a theory. This causes his family and friends to be unable to deal with his capability and quirks. Besides, the young Sheldon shows how a freaky geeky kid fit in the social setting and community with different kinds of people.
Besides Young Sheldon's intelligence prowess, everything he said about science, such as Newton's theory, can increase complex and infamous vocabulary into your brain. Moreover, the high school setting enables us to get used to the conversation and terms in an American high school. It is also hilarious when Sheldon answers something innocently that makes us think what the joke is about. Thus, we might understand different kinds of humor.
Adventure Time
Adventure Time is a weird yet fun cartoon TV series. The main character, Finn the human, and his best friend, Jake the Dog, are living an adventurous life. The land where they live is a kind of fantasy yet magical one. When they go to an adventure and fight monsters and get through hard times, sometimes Finn gives some decent moral lessons about life.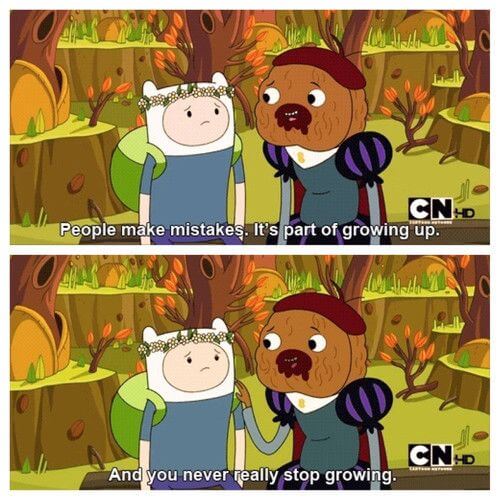 The main characters, Finn and Jack are expressive and brimming with emotion. When Jake gets angry, he will raise his tone and change his body form, considering he has a stretchy body. Anyway, when he is angered, his words leave an impression of the line that we could practice in real life. Moreover, there are slang words and weird terms used in many conversations in the series. Adventure Time gives us more insight into casual English conversations in daily life.
Our Planet
The last show to binge is a sight for sore eyes.
Our Planet is a Netflix documentary that shows a variety of animals and plants from around the world. The series narrated by Sir David Attenborough, a famed English broadcaster, writer, and naturalist, who wants to spread awareness of natural habitat extinction. Moreover, the stunning visuals of the show can boost your mood to learn and preserve our nature.
As a result, learning through a documentary keeps us motivated and productive to do some more deeper learning. The reason is that the narration of the story is simple, succinct and understandable. It is like someone reading a book for us patiently. Also, the documentary plot is coherent enough that facilitate an understandable English lesson for a beginner.
Finally, after watching several shows, series, and movies, you can check your language proficiency here to know your current level when learning English.
Vocabulary Corner
| | |
| --- | --- |
| English Words | Arti dalam Bahasa Indonesia |
| Binge-watch | Menonton secara maraton |
| Orphanage | Panti asuhan |
| Sitcom (situational comedy) | Komedi situasi |
| Precinct | Kantor polisi |
| Tackle | Mengatasi |
| Settle the case | Menyelesaikan kasus |
| Repetition | Pengulangan |
| Geek | Kutu buku |
| Prowess | Kecakapan |
| Decent | Layak |
Finally, have you discovered a motivation to watch all of them? If yes, you can watch them on Netflix and similar streaming services for your own enjoyment. Furthermore, we also have a blog with so many interesting articles for your reading enjoyment. Happy reading, everyone!